Lennki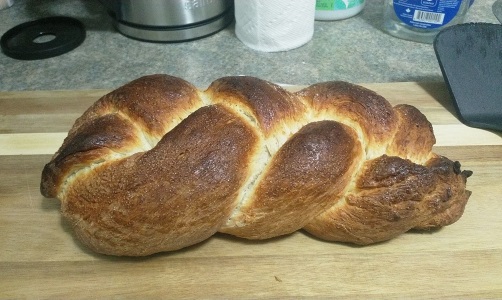 Ingredients
2 Cups Flour
1 Tbsp Instant yeast
1/3 Cup Granulated sugar
1 Tsp Ground Cardamom
1/4 Tsp salt
1/2 Cup Milk
2 Tbsp Butter
1 Egg
Optional for brushing
1 Egg
1/4 Cup Milk
Granulated Sugar
Mix flour and yeast in a mixing bowl. Stir in sugar, cardamom, and salt.
In a measuring cup, microwave milk for 30-45 seconds until hot. Stir butter into milk until melted and well mixed.
Pour butter and milk mixture into dry ingredients and stir until absorbed.
Beat the egg, then stir into dough.
If dough seems dry, stir in water 1 tablespoon at a time; if it is too sticky, stir in flour 1 tablespoon at a time.
Turn out dough onto a floured surface. Knead the dough until it is very smooth and springy, this will take 5-10 minutes. Let dough rest uncovered for 10 minutes.
Preheat oven to 350F, lightly grease a large baking sheet.
Cut the dough into 3 equal pieces. With your palms, roll each piece into a 15 inch rope. Braid the 3 ropes together. Place the braided loaf onto the baking sheet and let rise uncovered until doubled, about 1 1/2 hours.
Optionally, brush the dough with an egg and milk mixture and dust with granulated sugar.
Bake in 350F oven until golden brown, 20-25 minutes. Remove from baking sheet and cool on a rack.